Hello everyone,
Here is a review I recently wrote for my school newspaper. I hope you enjoy it.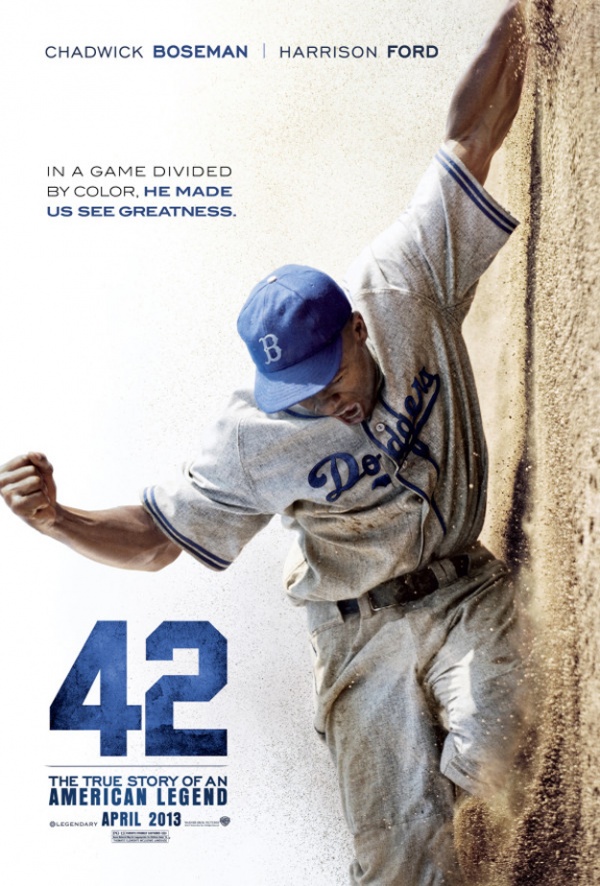 42
Release Date: Friday, April 12, 2013
Starring: Chadwick Boseman (as Jackie Robinson), Harrison Ford (as Branch Rickey), Christopher Meloni (as Leo Durocher), Nicole Beharie (as Rachel Isum Robinson), Andre Holland (as Wendell Smith)
Director: Brian Helgeland
Screenwriter: Brian Helgeland 
Runtime: 128 minutes
Rated: PG-13 for thematic elements including language
     42
out of 100
Jackie Robinson is remembered as a hero of baseball, one who not only possessed remarkable skill and passion for the sport, but also broke the baseball color line when he became the first African-American to play in the major league. This defiance of racial barriers in what was once a white man's game ended an era of segregation in major league sports and contributed to African-American integration in a number of other professions.
Last Sunday, Horace Mann students and parents gathered at a showing of Brian Hegeland's new film "42," about Robinson's meteoric rise to baseball stardom with the Brooklyn Dodgers, at the Magic Johnson AMC theatre in Harlem. The showing was followed by an eye-opening Q & A discussion with Negro League baseball legend Gilbert Black, who related with the hardships that Robinson faced due to his skin color. Unlike the conversation, however, the film avoids insight into the perseverance that marked Robinson's exceptional character, while also failing to measure the magnitude of his impact on civil rights.
The racism that "42" attempts to highlight is rarely brought to a personal or emotional context. The film conveys that Robinson is relentlessly mocked by white communities and even his own teammates for the color of his skin, yet masks his fury and turmoil with nothing more than the stony complexion of Chadwick Boseman, who brings little character to his role as the baseball player. Only in one scene is the full extent of Robinson's rage revealed, when Robinson breaks his baseball bat after a racist coach on an opposing team jeers at his skin color. This is far too short, however, for the audience to form a deep understanding of the injustice that he felt, although it is true that Robinson needed to conceal his outrage in order to succeed in baseball. Robinson's tenacity is expressed only as a trite teaching lesson for persevering in the midst of hardship, rather than an essential element of his character and meteoric success in baseball. Robinson's story does inspire at least one young boy in "42," who as we later learn, becomes a part of the Major League Baseball Hall of Fame, yet the scope of his impact does not expand much further. In real life, Robinson's stoic forbearance of such abhorrent racism received great respect and admiration from African-Americans; his nonviolent reaction to discrimination was later applied when blacks fought for legal equality in the Civil Rights Movement. Fans in "42" seem to admire Robinson far more for his home-run averages than for his demonstration that African-Americans can possess an equal amount of talent as their white peers, in the baseball diamond or in any other field. Certainly, "42" portrays Robinson as a celebrity, applauded for stealing a base or chased by flocks of admirers. It does not convincingly, however, characterize him as a hero whose greatest hit came not in a home run, but in the social repercussions that those home runs made beyond the field. 42/100